As 2022 drew to a close, so did the doors of the first Blackpool Business Expo since 2019. And it felt so good to finally be back! But it wasn't all plain sailing.
After many businesses were left high and dry thanks to the covid pandemic, we were now having to navigate our way through a period of unprecedented economic uncertainty.
With the cost of living and energy crisis unfolding before our very eyes, many business owners were unsure where to place their marketing budgets. Some were even cutting spending altogether to tighten their belts.
So, we were left with a choice to make.
We had to ask ourselves whether to go ahead with the event at all.
But as marketers, we knew that not marketing your business during these turbulent times was a mistake.
For example, if your competitors are cutting back on marketing, doesn't it make sense to do the opposite and get yourself out there?
The Institute of Chartered Accountants for England and Wales agree, marketing your business is essential in a recession yet it's typically the first budget to get cut. (Their insights blog featuring Anna Stella CEO of BBSA Marketing explains why this thinking is flawed and we wholeheartedly agree).
Anyway, back to the event review!
All Aboard!
Walking into Blackpool's brand-new purpose-built conference and exhibition centre it was hard not to be impressed.
Despite the pouring rain and wind blowing outside, the venue looked and meant business and so did all the Blackpool business owners inside.
Forty businesses were first up, best dressed and ready to show people what problems their businesses solve. It's the mindset of these people that sets them apart. They are invested in making real life connections with the people they can help.
Blackpool Councils business support organisation Blackpool Unlimited was on hand and leading by example.
In the run-up to Blackpool Business Expo their dedicated business engagement team went as far as plastering the expo right across their website homepage so people landing there couldn't miss it!
They understand business events like Blackpool Business Expo are crucial to the local business community.
Now that's collaboration at its finest.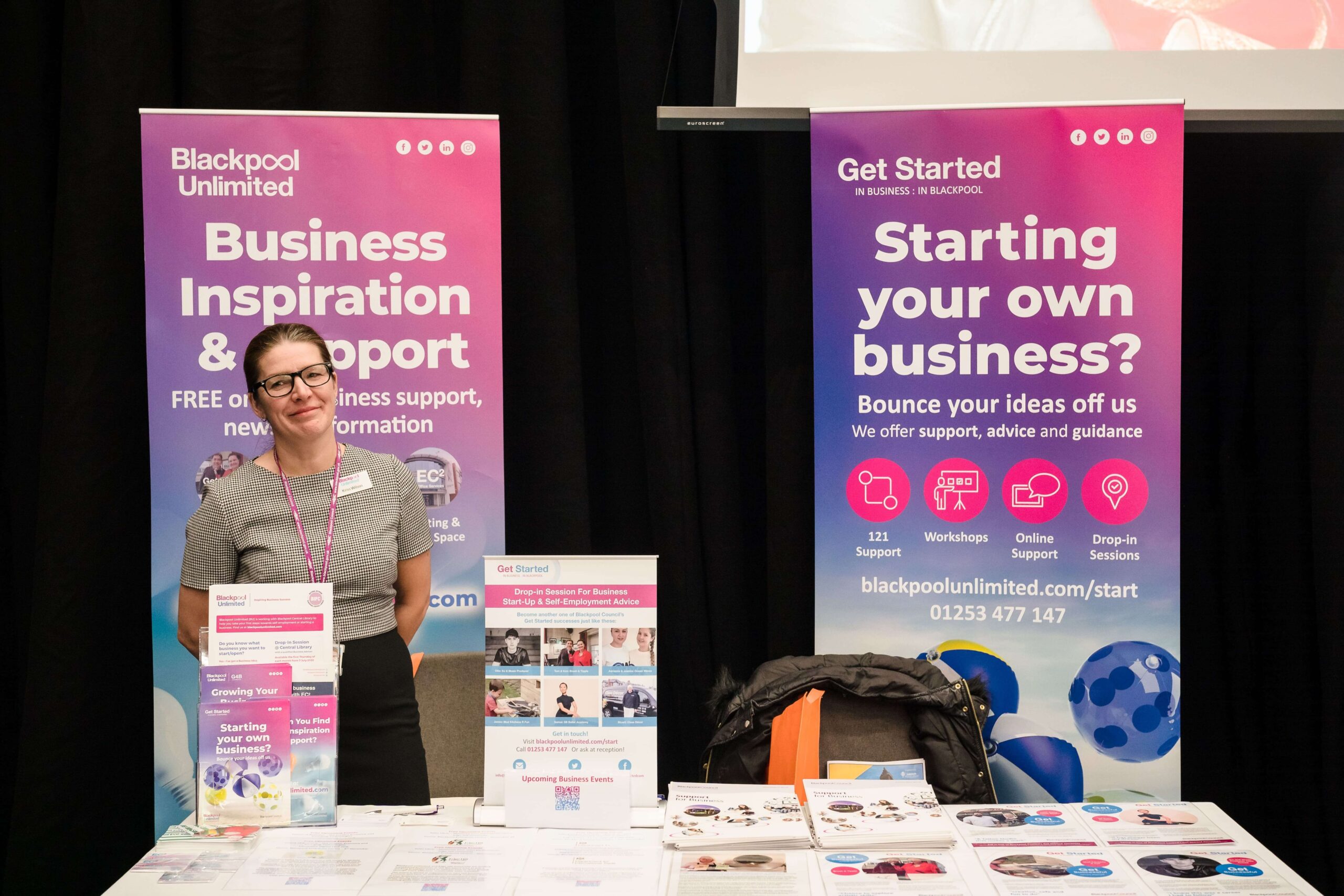 Lancashire's Boost Business team was out in force, signposting business owners to the help they need when they need it. Such as advice on how to upskill your workforce and opportunities for funded training. They also promote a full diary of events which are free to access, no matter what stage you're at with your business.
'Stand'ing out
Brown & Co, who were exhibiting at their first-ever expo, had put lots of thought and effort into their stand space. They wanted to raise their brand awareness locally and encouraged visitors to stop by for an informal chat over a game of table football. They also had a relaxing seating area where they could sit down and get to know visitors and fellow exhibitors, over a nice hot cup of coffee.
Chris Brown, managing director said of the event: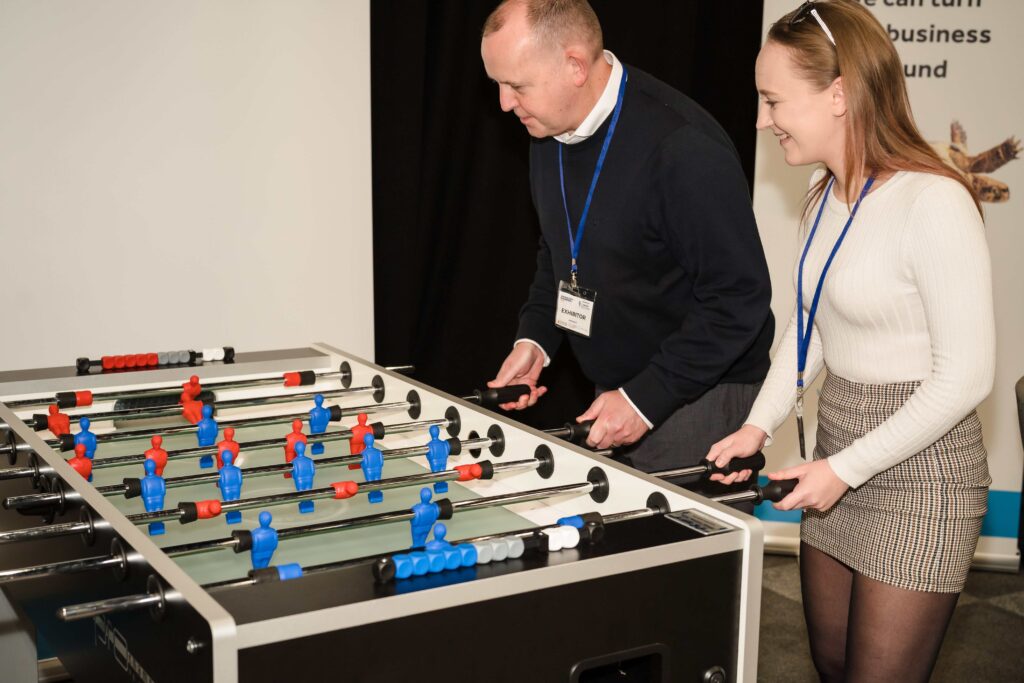 "A great event, great location and well organised! Thanks for letting us be a part of it including the panel discussions. We love working with local businesses and this was a great opportunity to meet with them, both in terms of the exhibitors and attendees.

Great to see some familiar faces but also some new ones, particularly those passionate about supporting small businesses.

A big well done to the organisers, we look forward to next year!"
Mini Golf anyone?
The Flowerbowl Entertainment Centre bagged a hole-in-one with an amazing set-up and a smiley team. And according to the organisers, played the expo game to a tee.
By mid-morning, the exhibition room was loud with people getting to know one another. With over 150 visitors, plus exhibitors, guest panellists, and speakers in attendance.
There was just a really positive vibe throughout the day.
It was clear Blackpool Expo's comeback was on the right track as people swapped contact details, networked and took part in what the expo had on offer.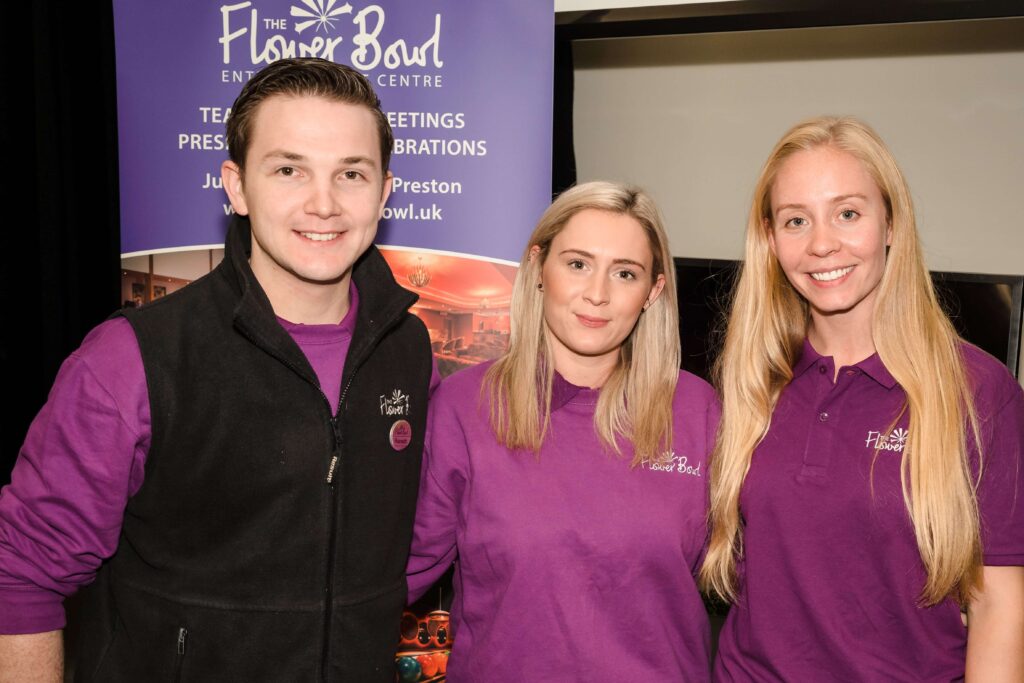 Network, Learn, and Grow
Within the exhibition, people had the opportunity to learn something new with a visit to the stage area. Big Creative Events presented us with an LED backdrop behind a huge screen and inflatable Chesterfield sofas. Coupled with colour change LED side tables, the scene was set for the order of the day.
Hosting the expo stage for the day was the very talented Naomi Timperley. Her down-to-earth manner and easygoing humour, engaged the watching audience members as she asked the panel her questions.
By lunchtime both panel discussions, Survival Skills for Business Warriors and Mind the Gap were over. Each packed with valuable advice coming from people who have worn the t-shirt.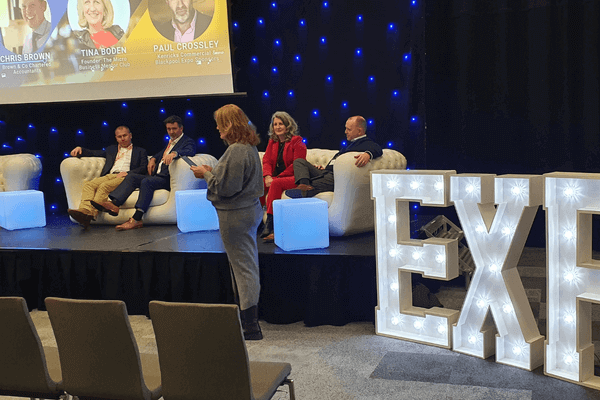 The feedback from the panel discussions came in the form of google reviews. As with any live event technical issues can be a pain but fortunately a couple of teething problems did nothing to dampen the day
This 4* review from Pengwi Poe gave us a sigh of relief 😉 we promise to do better next time.

Ian Squire from Complete Floorcare left this 5* google review.

We'd also like to say a massive thank you to our sponsors for their contribution to the panel discussions, Paul Crossley of Kenricks Commercial Estate Agents and Property Management, Justin Beckwith Pattinson Auction and John Keen from RKMS.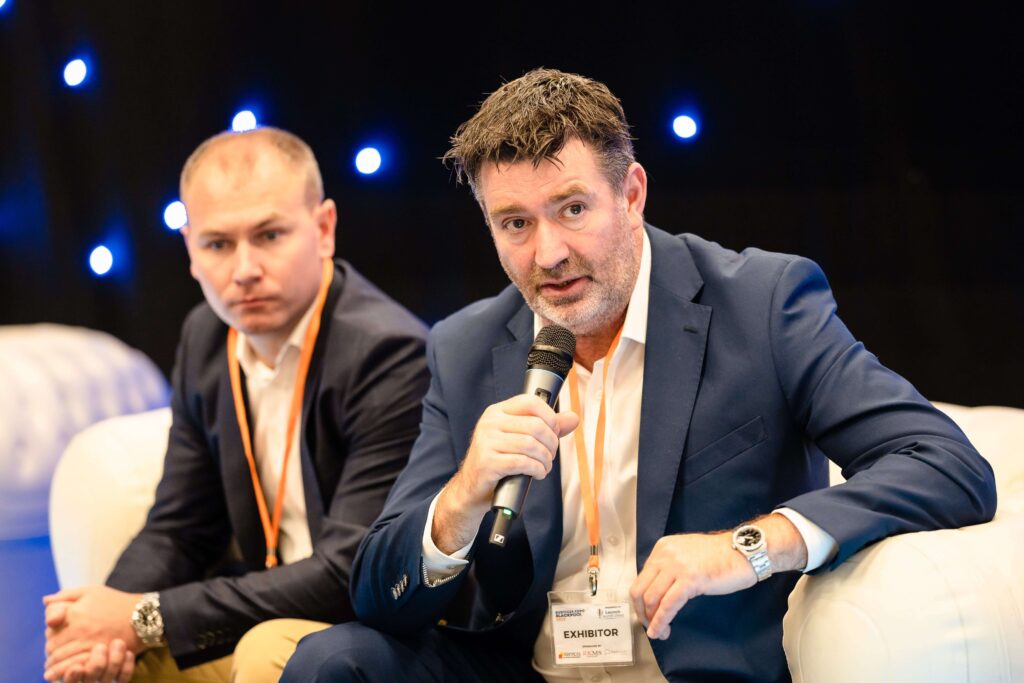 Now For The Speakers
After lunch, Pink Link Ladies and Eva's founder Coral Horn took the stage for an intimate Q&A with Naomi. One visitor commented that it was nice to hear Coral's back story because she never talks about herself! Her talk explained why she's so passionate about supporting female entrepreneurs and also why she's still single 😉 (you had to be there!).
What prevailed throughout the day was the strength of peoples existing relationships. It was easy to witness enthusiastic reunions between those that hadn't seen each other due to the past restrictions.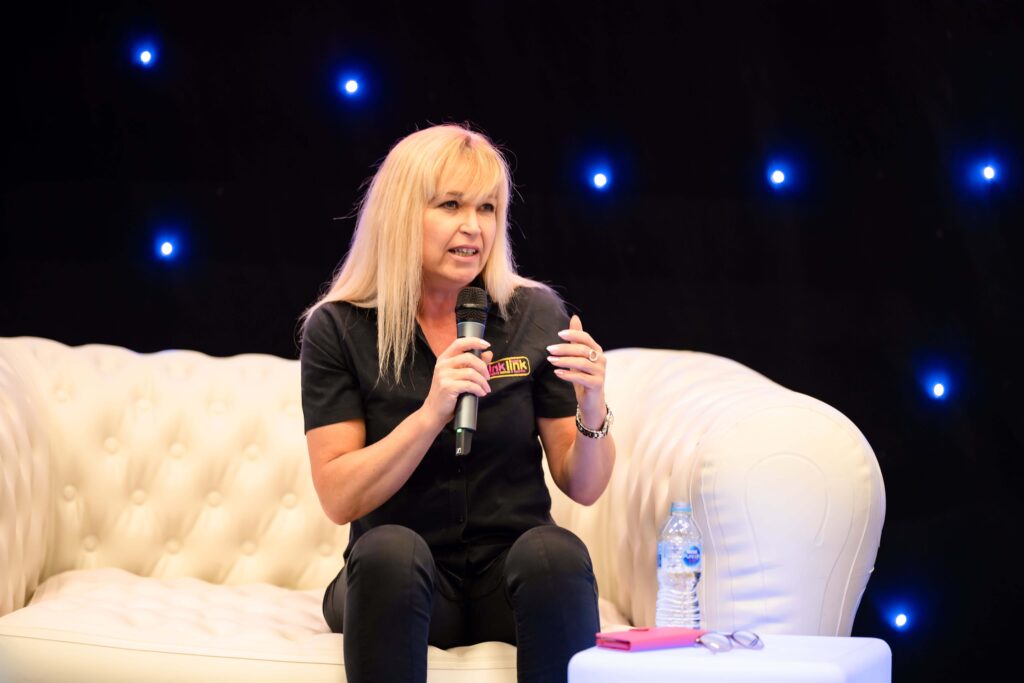 Complete Computing's Connor Greer commenting how he made new connections and refreshed old ones from before the Covid Pandemic.
The overarching message was loud and clear, the strength of your business relationships will determine your success or indeed survival!
Tina has been on a mission to help micro business owners flourish for over a decade, spending a huge proportion of her time helping them build a work life blend. Tina spent the whole day networking and talking to people to get to know them with one visitor compelled to leave this fabulous Facebook review after sitting in on the sessions.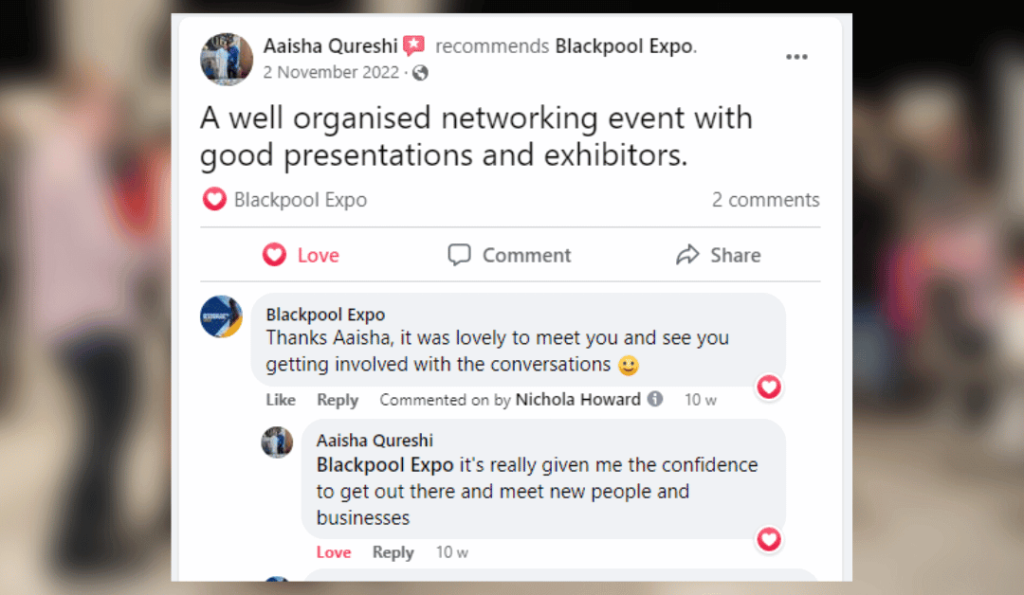 Aisha has since become a member of The Micro Business Mentor Club where the support she's receiving from Tina is ongoing and her confidence is soaring well after the last year came to an end. 

Making their mark across the generations we introduced Tina & Coral to some of the mini reporters from Media Cubs via our good friends Kirsty Day and Grace Dyke.  

Media Cubs is a social enterprise. This means the team put purpose before profit and the mission is a bold one. 51% of leading journalists in the UK are privately educated. There's a massive imbalance between who shapes and who consumes the news. Media Cubs is driven by the belief that kids from all backgrounds have a place in the newsroom and should feel confident that their views matter. 

See Tina's interview with the mini reporters here.
See Coral's interview with the mini reporters here.
Supporting The Local Community
Giving back where we can, we invited Blackpool Foodbank to be our local Charity for 2022. Charlotte Rawcliffe from the charity contacted us about how being a part of the expo had impacted their mission:
"I hear nothing but positive things about Blackpool Expo 2022, so congratulations on a fantastic job, and again thank you for choosing Blackpool Food Bank as your chosen charity. The connections we made from Blackpool Expo were so valuable and have flourished into some great relationships.
A few to mention are Warren Langford from Lab Creative who supported us through social media/ marketing as well as donations, VIVA who has donated food, Blackpool Unlimited who raised money for us at Christmas, and Blackpool and the Fylde College who we re-established a past relationship with and look to support through our partnership."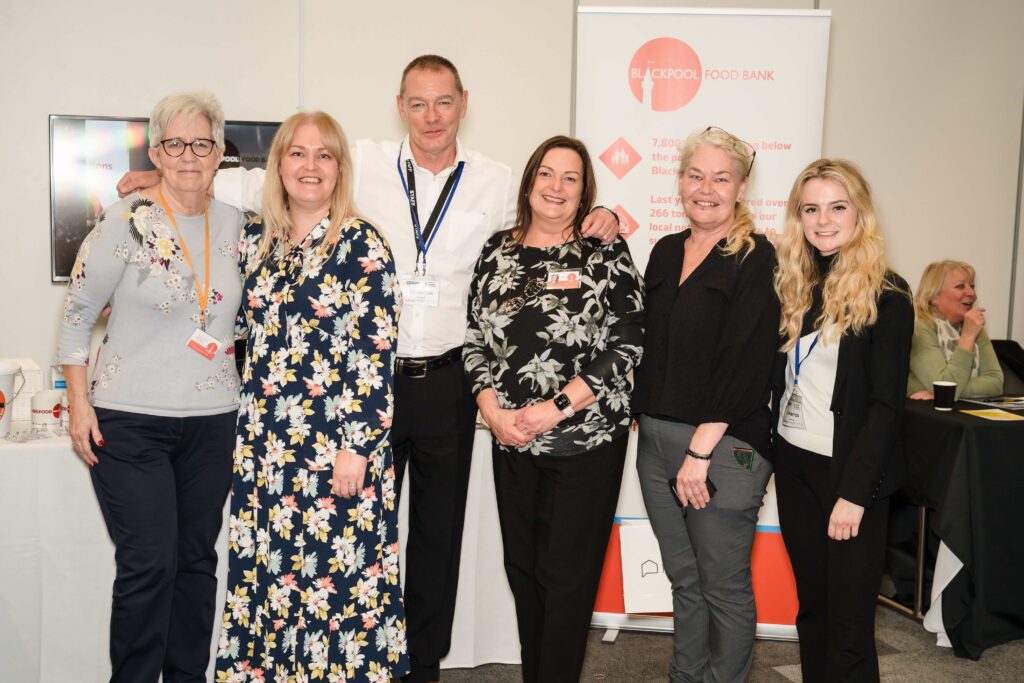 The Lancashire Wine School was also amongst those who left a 5* review.
Colin goes to a lot of events, he's a previous exhibitor and friend of Blackpool Expo. He also goes waaaay back having exhibited with the organisers at their very first event in 2012 and many times thereafter.

Thank you, Colin.
Finally, there's Peter Jefferson, saving the best for last Blackpool Expo's resident photographer captured it all perfectly.
So, to summarise the outcome of the day.
All the businesses and organisations taking part in the event made it count and there wasn't a boring accountant in sight!
Click here for the gallery of the day to prove it 🙂
Blackpool Expo is most definitely back in the Event Calendar.
We will be helping businesses 'spring' forward with our new date of Friday 12th May 2023, 10am – 3pm. When it's sunny 😉 The event will then run annually thereafter…